AUDITORIUM
Carleton-Willard Village CCRC
Bedford, MA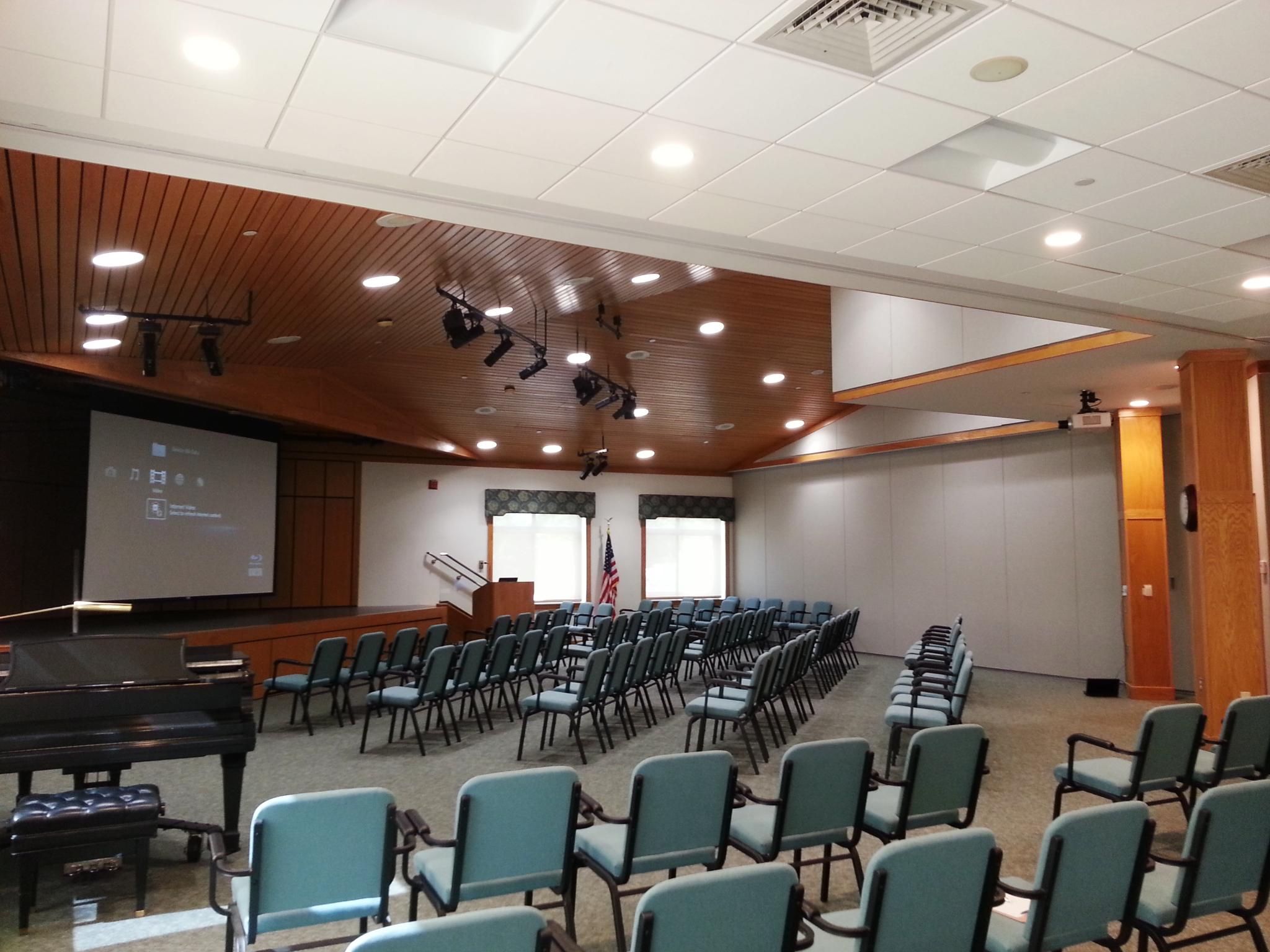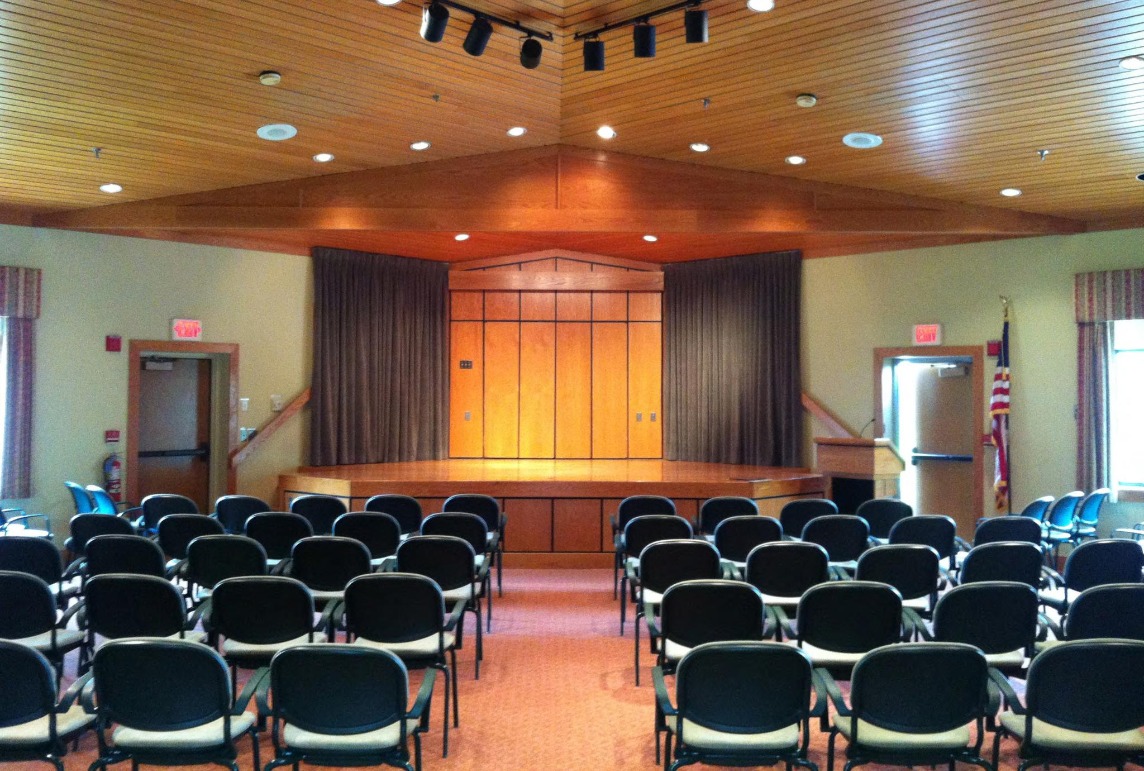 RENDERING OF STAGE SHOWING NEW STAGE EXTENSION IN CLOSED POSITION, WOOD PANELING & THEATRICAL LIGHTS

RENDERING OF STAGE SHOWING NEW STAGE EXTENSION IN OPEN POSITION, WOOD PANELING & THEATRICAL LIGHTS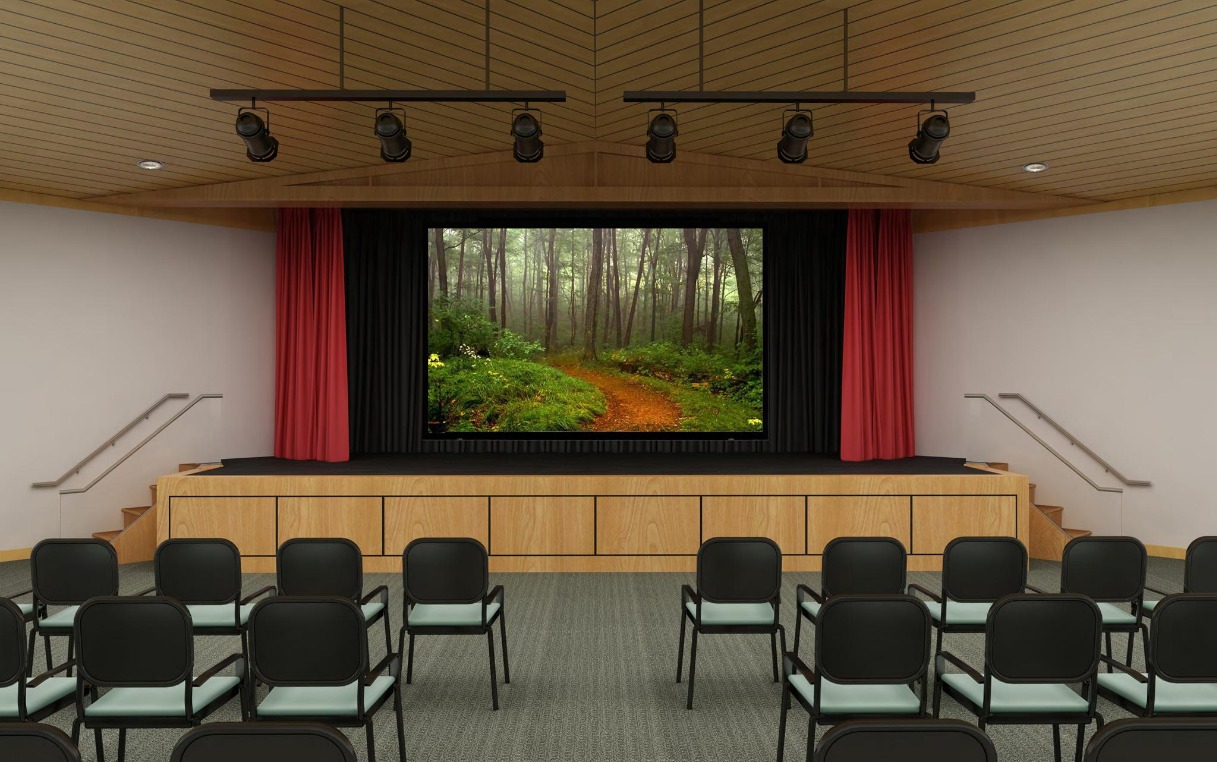 RENDERING OF STAGE SHOWING NEW STAGE EXTENSION, THEATRICAL LIGHTS, STAGE CURTAINS & PROJECTION SCREEN

PHOTO OF COMPLETED RENOVATIONS

Completed: September 2013

The recently completed renovation of the Carleton-Willard Village Auditorium was designed to allow the space to accommodate theatrical productions while maintaining and enhancing continuing functionality of a Multi-Purpose Auditorium for presentations, guest speakers, resident and board meetings, activities, movies and the like.

The completely renovated 2,876 SF Auditorium consists of three spaces: Auditorium Left, Right and Center, separated by new semi- automatic acoustical operable partitions which allow the spaces to be used separately or combined; when combined the Auditorium can seat up to 287 people.
A new fully motorized retractable 3 feet deep by 23 feet wide stage extension was custom designed for the existing stage to increase the performance floor area by 74 percent when desired. The permanent stage floor area was also increased during this renovation by 20 percent and new non-slip flooring was installed on the stage and extension. The stairs on each side of the stage were replaced to reduce the steep stair riser height and new unobtrusive tempered glass railings were added to each stair.
In Auditorium Center, motorized stage curtains and theatrical LED track lighting including a moving spot light were installed to accommodate theatrical productions. The existing projection screen and portable projector were replaced with an extra large 11'-7" wide by 7'-3" high motorized projection screen and ceiling mounted remote controlled projector. A new 80" television was added to Auditorium Right.
Throughout the Auditorium, lighting was upgraded with new LED dimmable light fixtures programmed to operate from preset lighting panels located at each entrance. A hearing loop, which magnetically transmits sound to telecoils in hearing aids, was also incorporated.
Other upgrades included new rift-sawn oak wood paneling on the stage walls and stage front, new contemporary acoustical ceiling tiles in Auditorium Left and Right, new wall finishes, carpeting, chairs, and a new speaker's podium.