COVENANT LIVING OF KEENE CCRC
FORMERLY HILLSIDE VILLAGE
Keene, NH

LONGITUDINAL SITE SECTION
APARTMENT WINGS CASCADE DOWNSLOPE REACHING OUT TO WETLANDS WITH VIEWS TO MONADNOCK MOUNTAIN RANGE BEYOND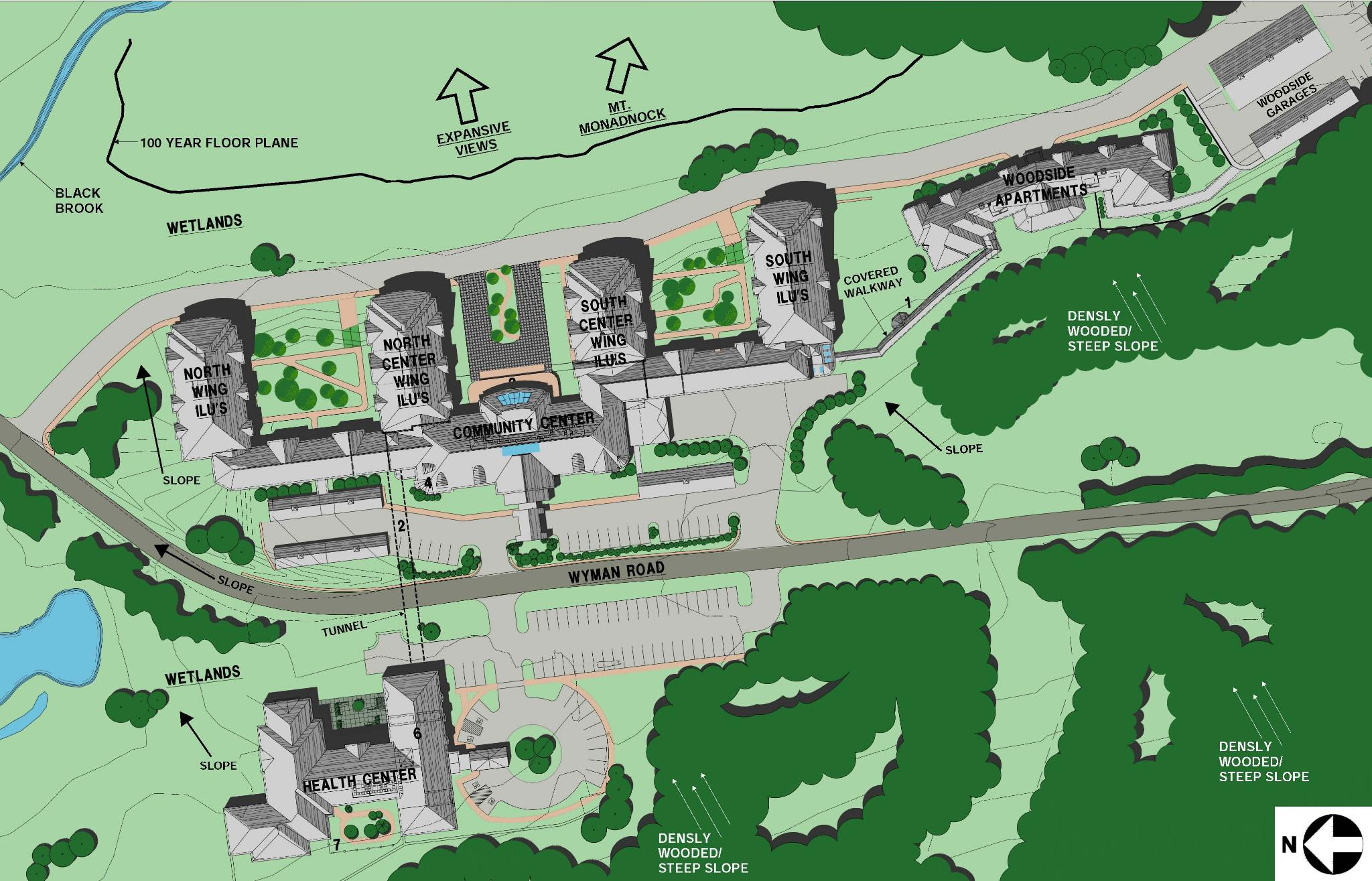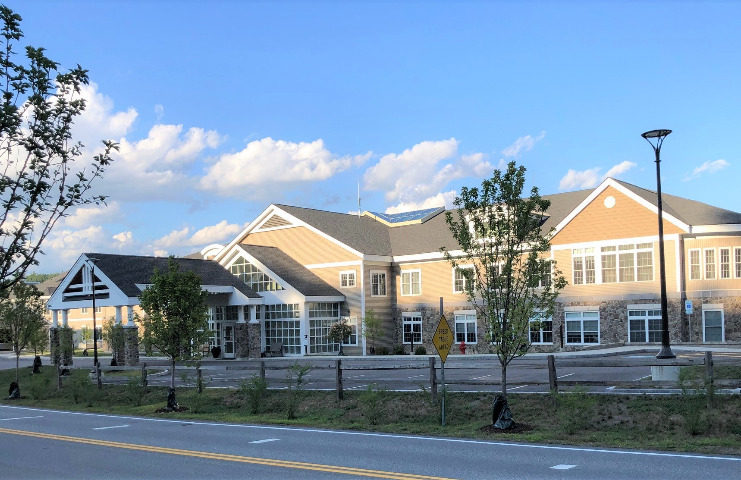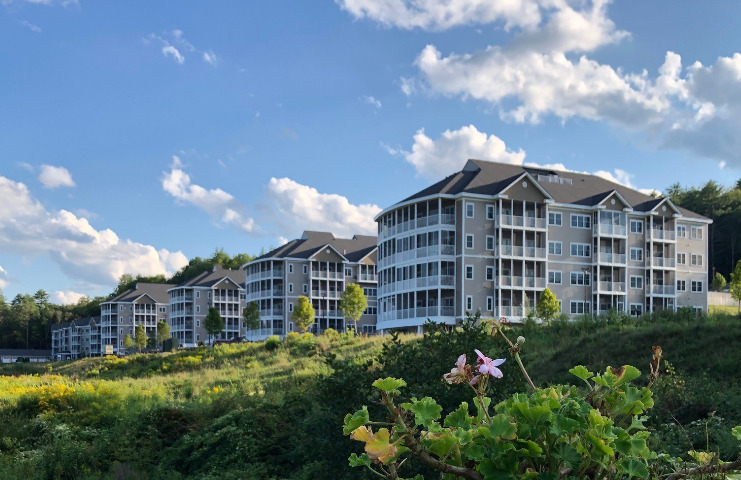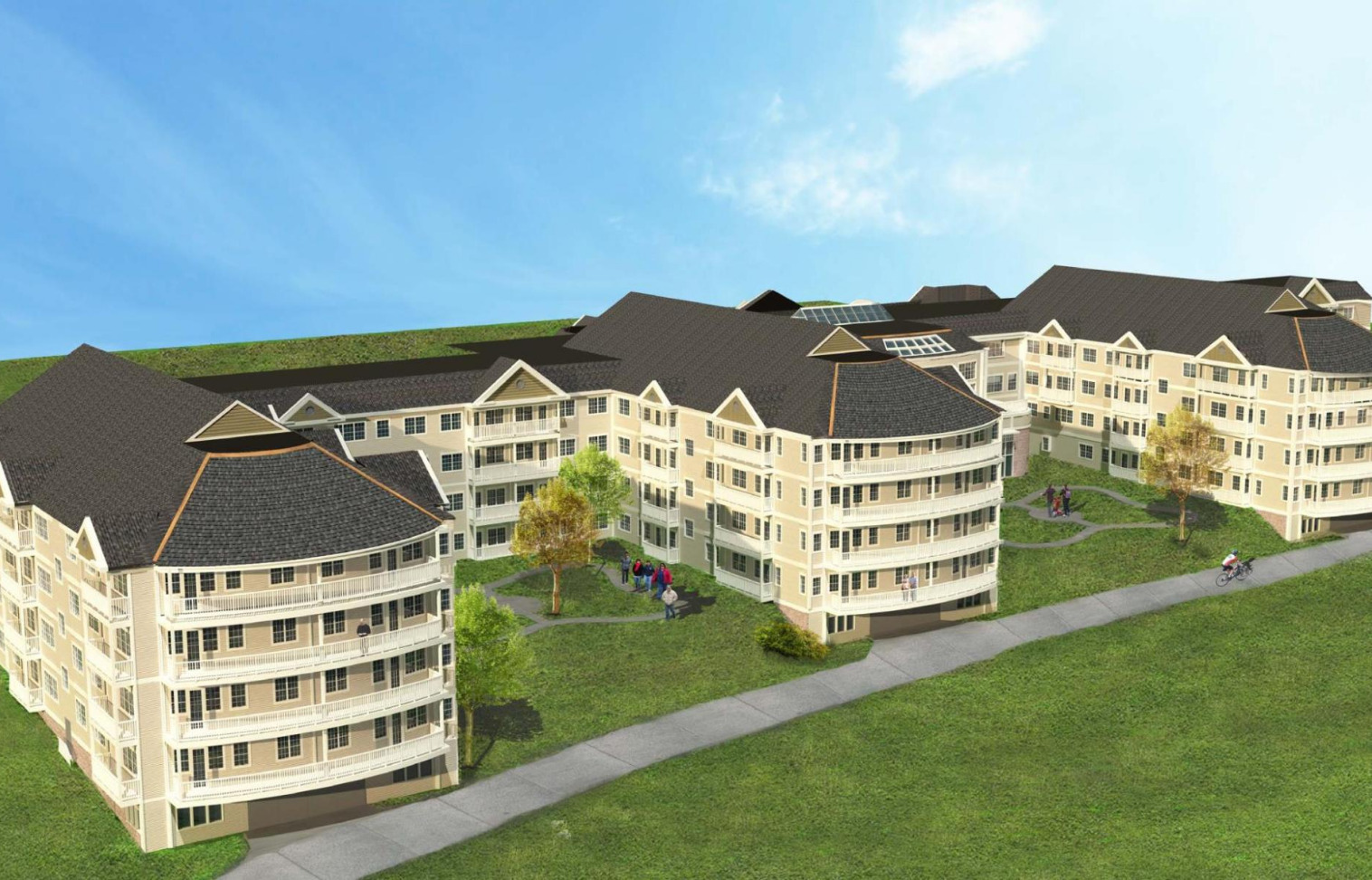 BIRDSEYE VIEW - ILU WINGS

WOODSIDE APARTMENT BUILDING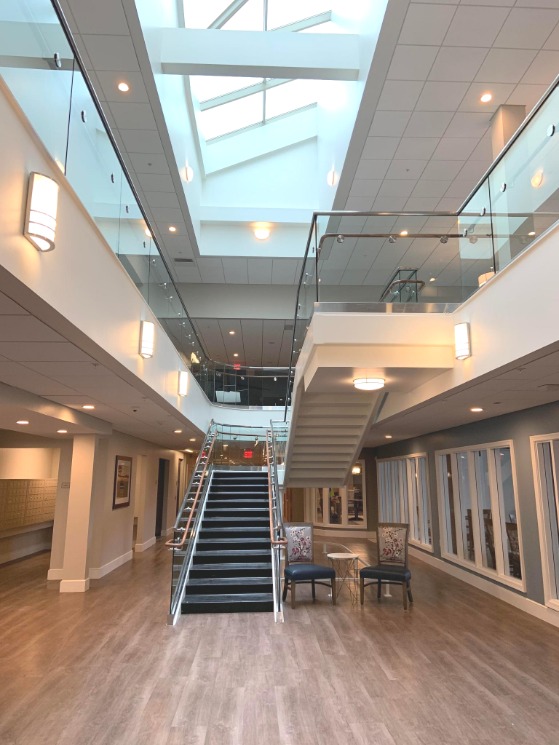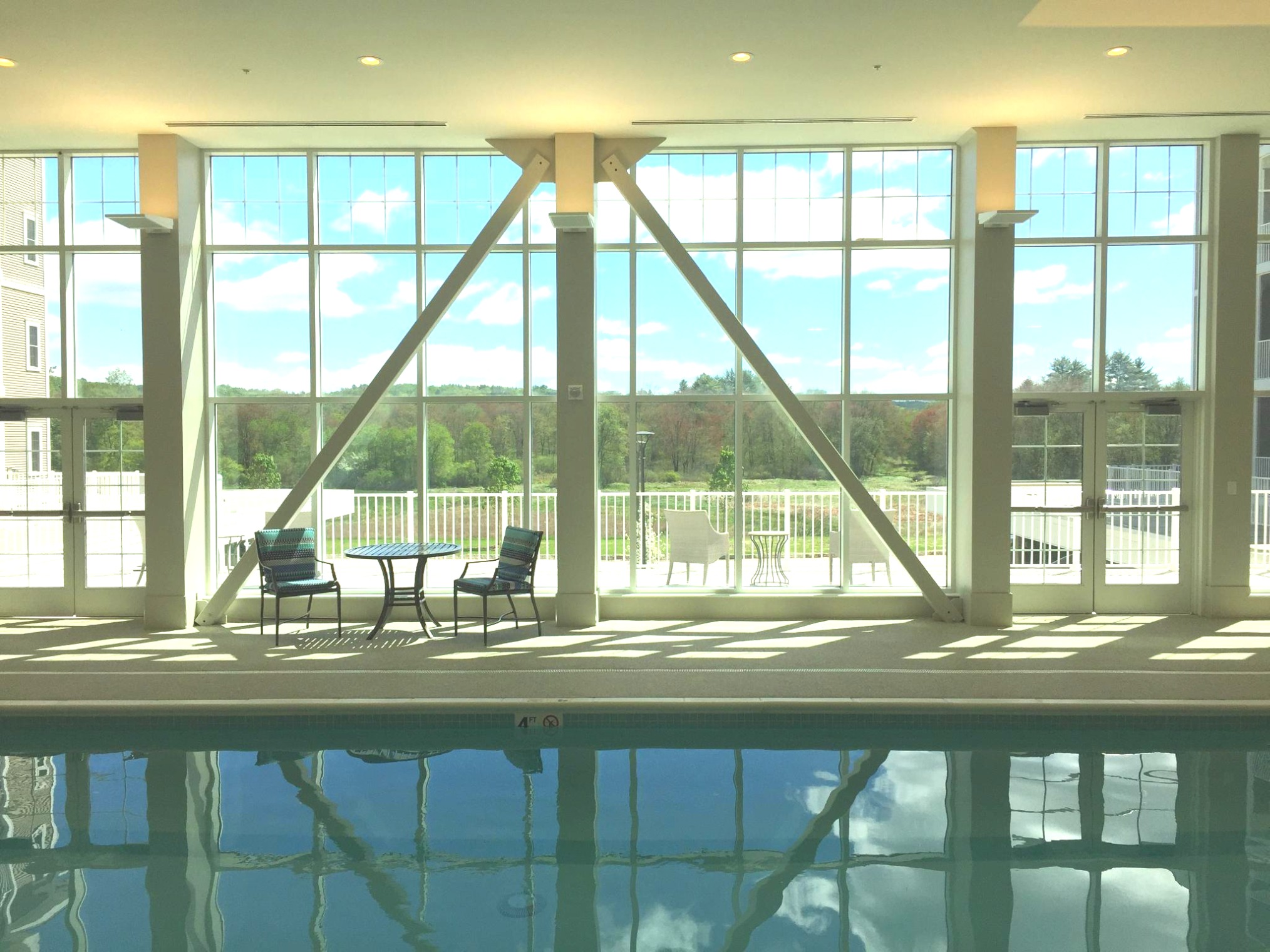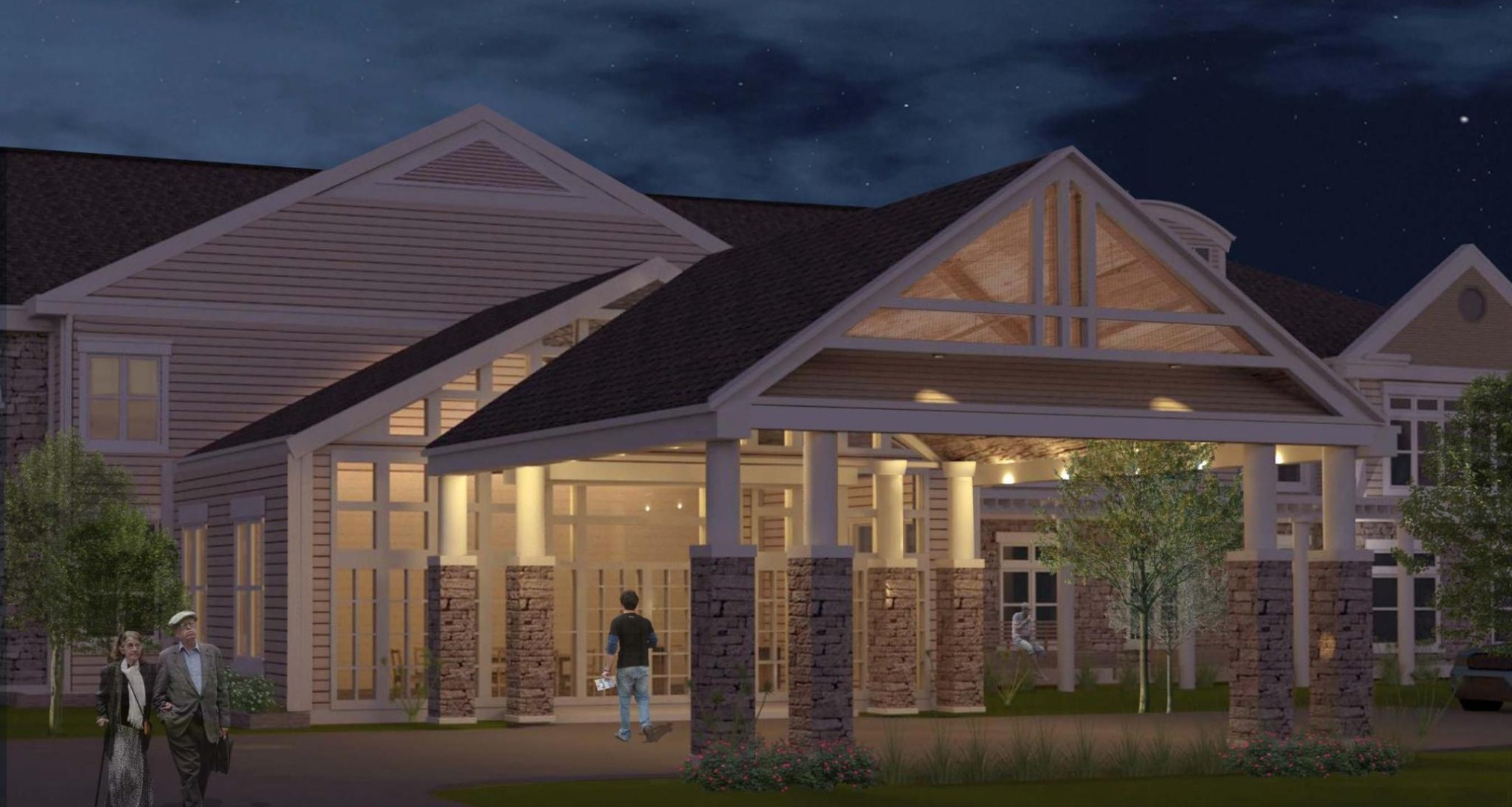 NIGHT VIEW - COMMUNITY CENTER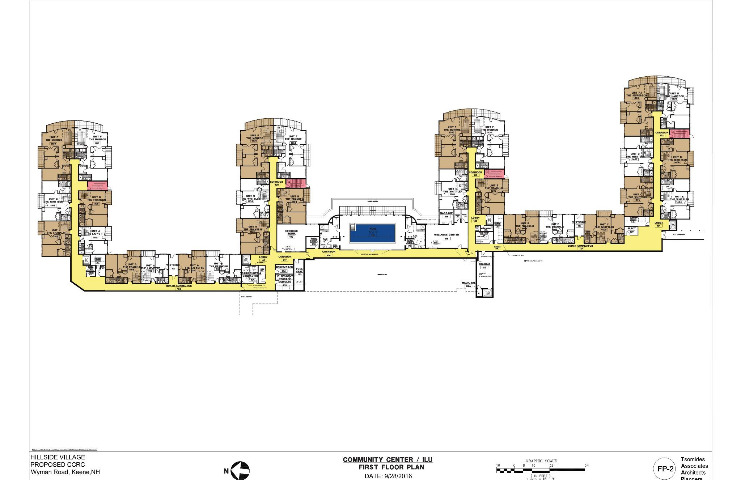 COMMUNITY CENTER AND INDEPENDENT LIVING UNITS FIRST FLOOR PLAN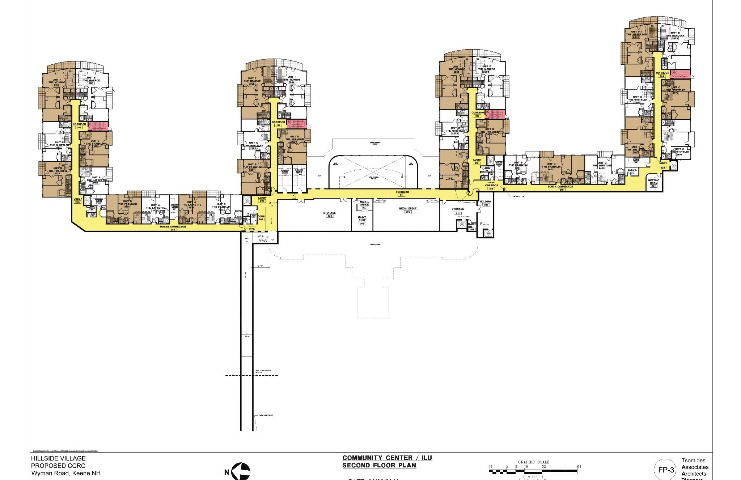 COMMUNITY CENTER AND INDEPENDENT LIVING UNITS SECOND FLOOR PLAN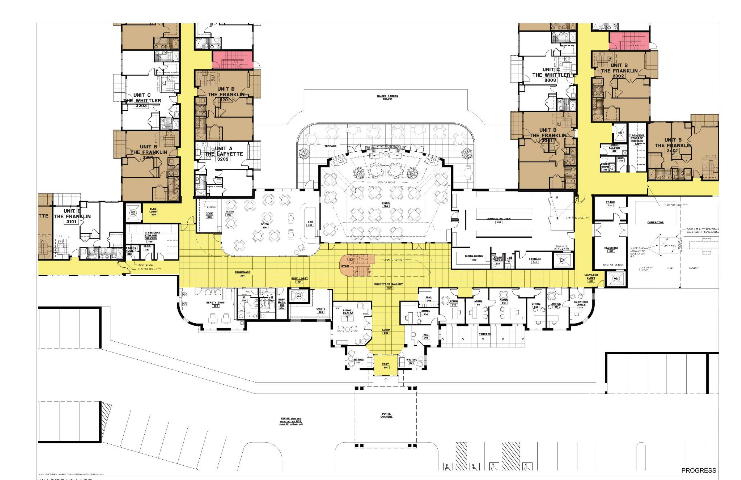 COMMUNITY CENTER THIRD FLOOR PLAN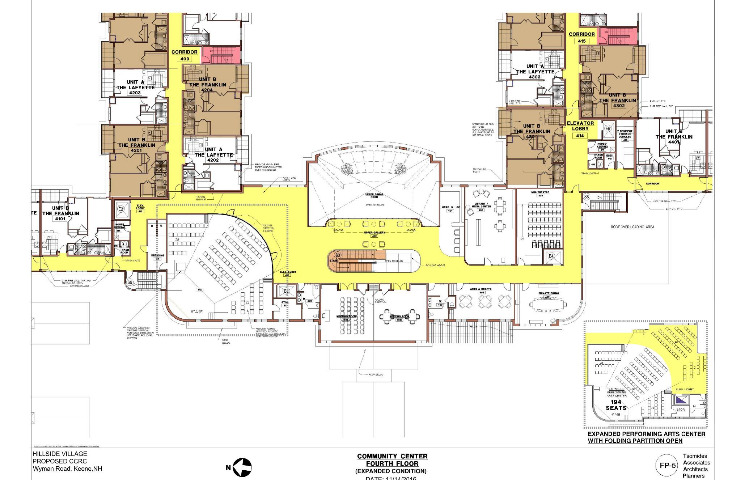 COMMUNITY CENTER FOURTH FLOOR PLAN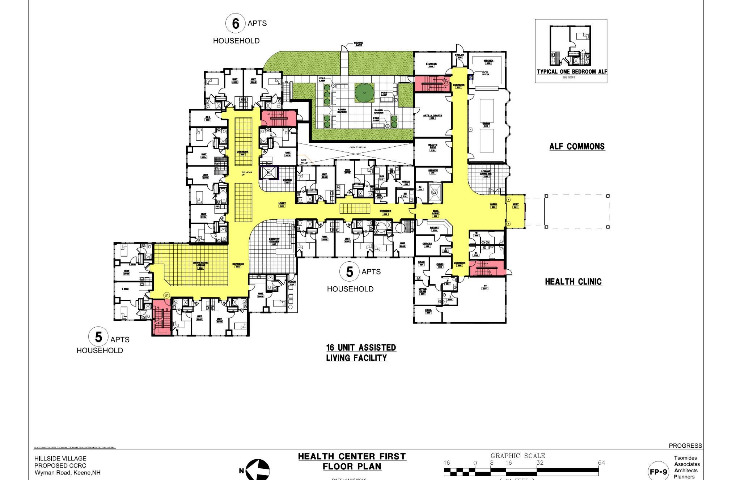 HEALTH CENTER TYPICAL FLOOR PLAN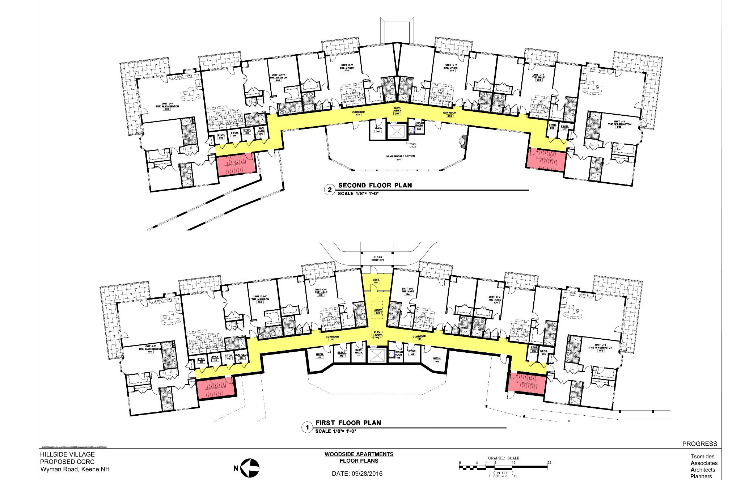 WOODSIDE APARTMENTS TYPICAL FLOOR PLAN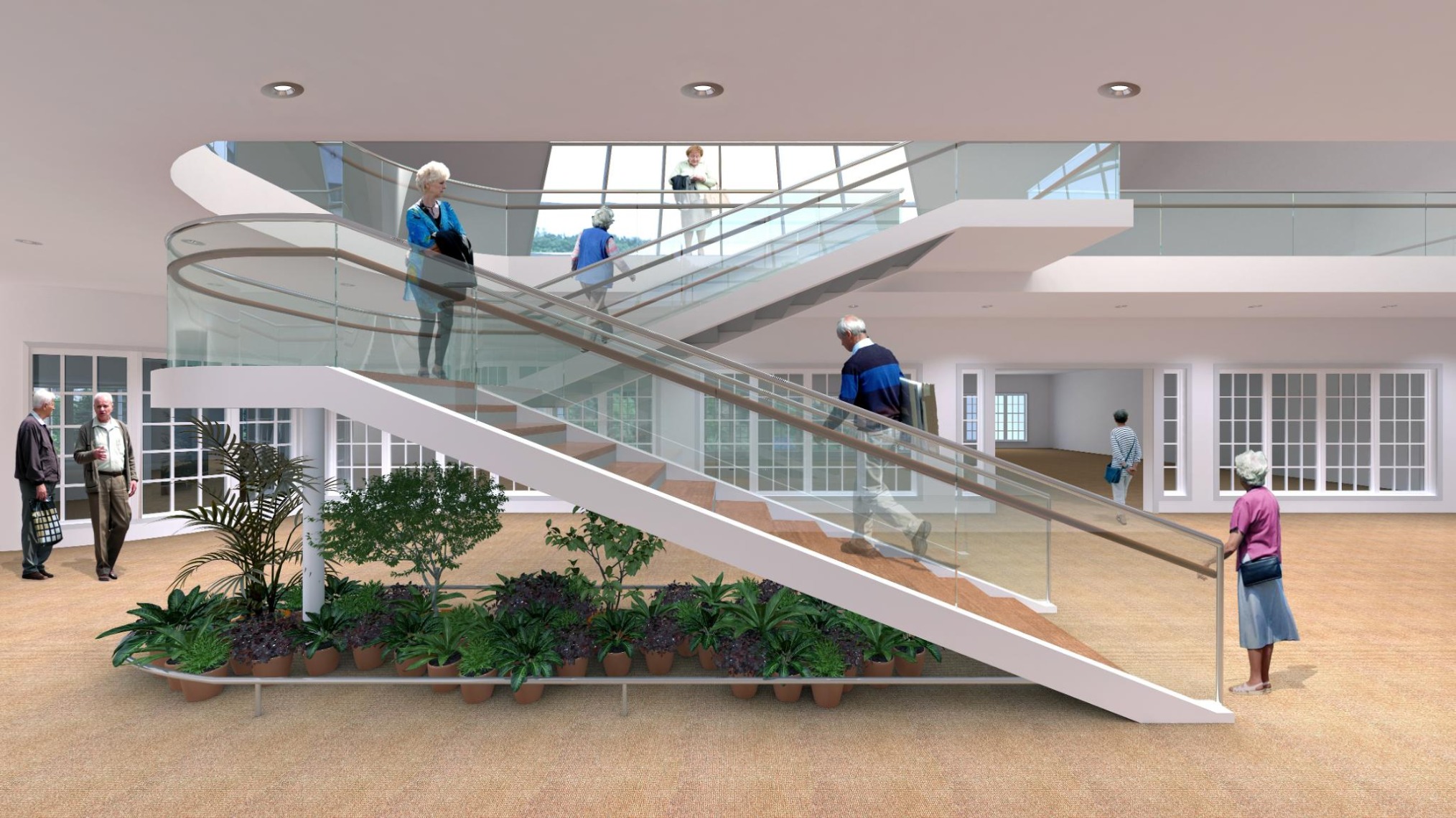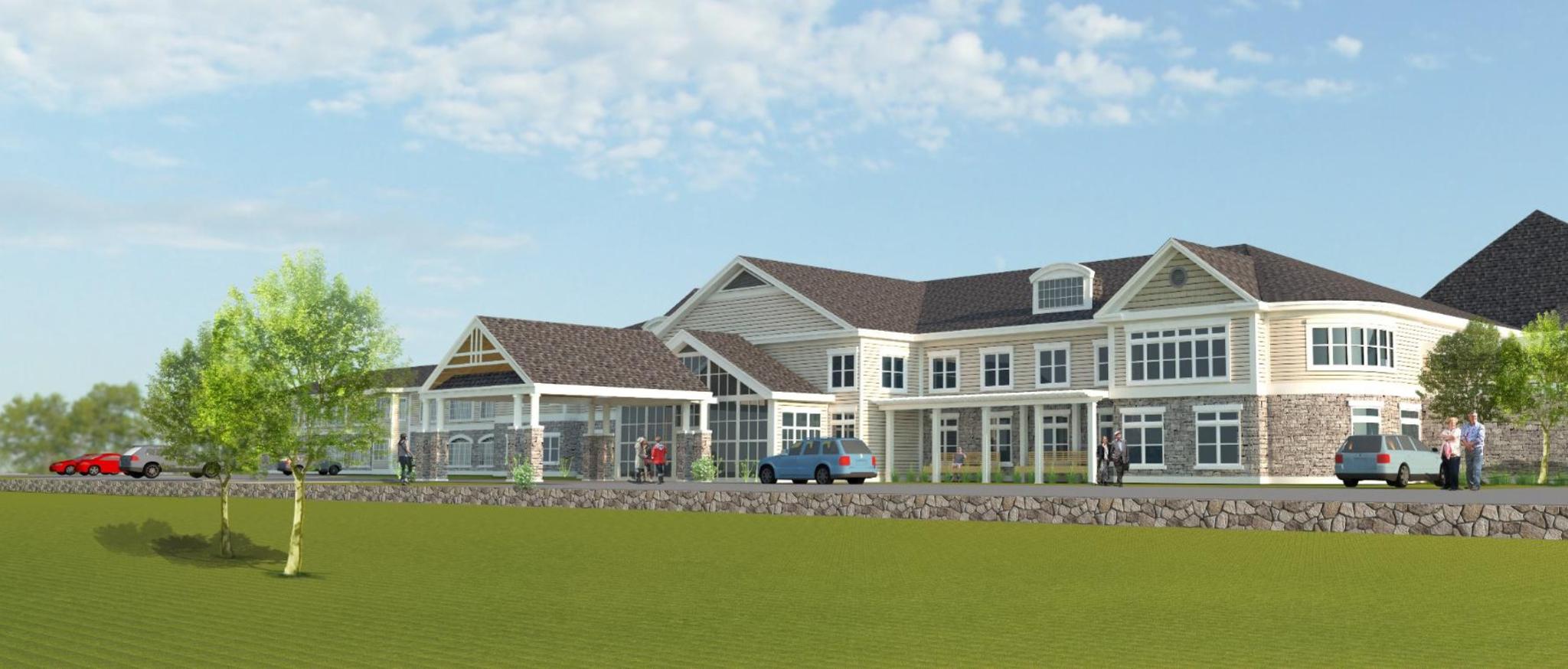 COMMUNITY CENTER ENTRANCE - SOUTHEAST VIEW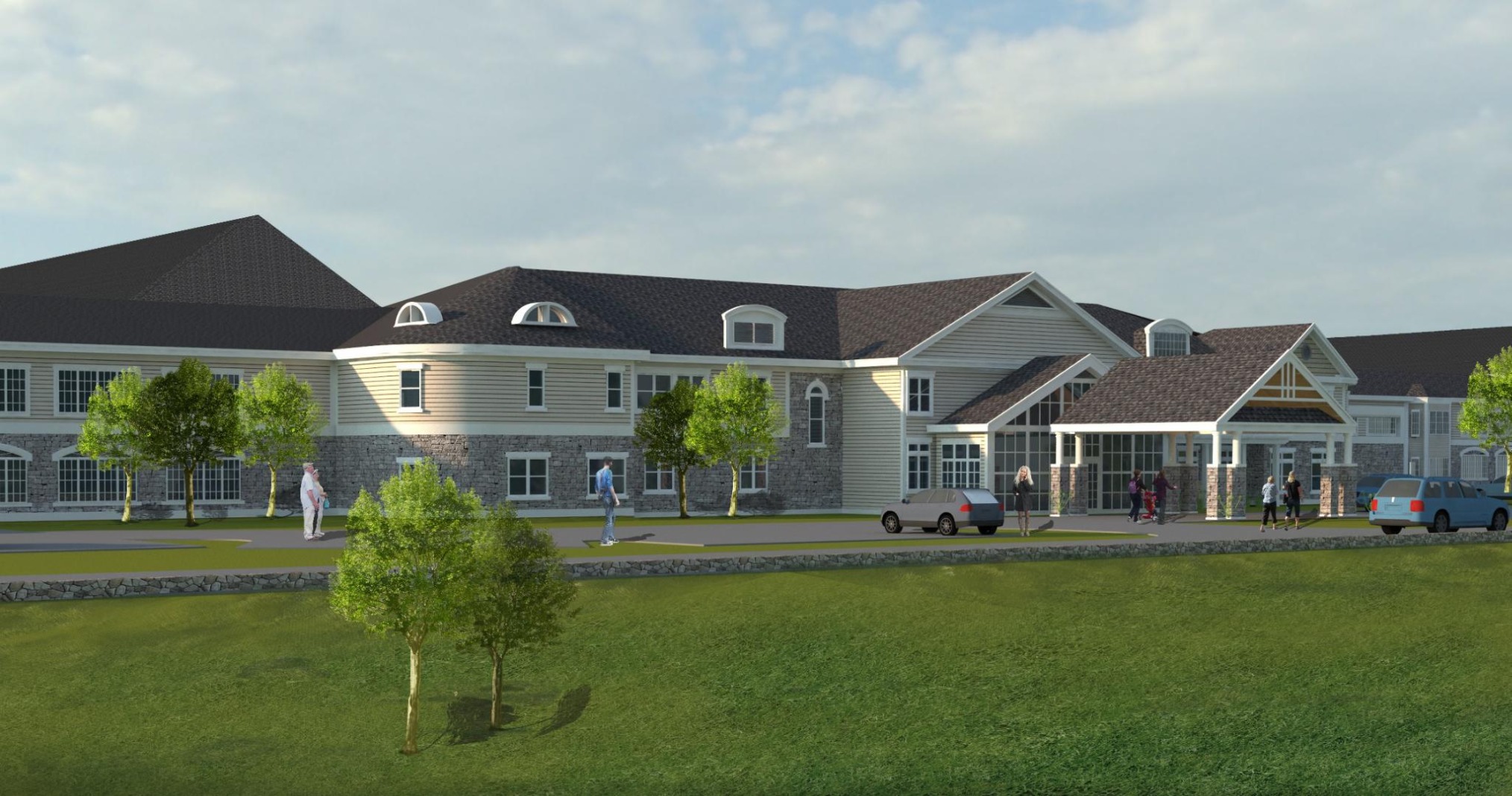 COMMUNITY CENTER ENTRANCE - SOUTHWEST VIEW
At a public hearing held on November 2, 2015, The City of Keene Zoning Board of Adjustment approved final plans for the New Covenant Living of Keene, formerly known as Hillside Village Continuing Care Retirement Community, located in a rural area north of downtown Keene.

The ZBA noted:" The special condition of this property that distinguishes it from other properties in the area is the existence of several areas of steep slopes, wetlands and floodplain. In order to avoid and reduce impacts to the most sensitive ecological areas on the site, it was necessary to locate and construct buildings and parking in such a way that there will be minor impacts to the physical environment, including the existing steep slopes on the site."
During the Planning Board review one of the members commented on how natural the buildings fit into the earth that he could imagine a Hobbit appearing from withing.
When approaching the site along Wyman Road from the north, the Master Plan, the essence of the design unfolds before you; revealing how the buildings fit into the site, providing a strong awareness of views and vistas, gesturing with its four projecting apartment wings, the massing and shape of the building; their interconnectedness and relationship to each other and their respect of the slope, trees, and wetlands. Correspondingly, the Health Center's footprint (located across Wyman Road from the Community Center) was shaped by the pond, wetlands and steep slope while providing us an opportunity to cluster the Assisted Living Apartments into desirable residential scaled Households.
The main two and a half story Community Center Building fronts on Wyman Road, a country road, while the four Independent Living Units Apartment Wings comprised of 117 Apartments Units project eastward cascading down slope resulting in four story apartment wings with enclosed parking below. This arrangement provides expansive views out towards the open wetlands and vistas beyond (most notably New Hampshire's Mount Monadnock) for all Apartments. The separate 4-Story Woodside Apartment Building, connected to the Community Center via an enclosed walkway (resembling a traditional NH covered bridge) contains an additional 24 spacious Apartments fronting on the open wetlands.
An underground sky lit Tunnel connects the Community Center with the 4-Story 81-Bed Health Center located on the west side of Wyman Road. The Health Center contains 43 1-bedroom Assisted Living Units, an 18-Bed ALF Memory Care Unit and a 20-Bed Nursing Care Unit. The ALF Units are comprised of Households consisting of 5, 6 & 7 Units clustered around open circulation areas and spacious Country Kitchens. The Health Center building shape and organization was dictated by the pond & wetlands and Steep Slope setback requirements, literally backed up against a small mountain along its west side. The western courtyard of the Health Center creates an exterior sensory garden for memory care patients.
Covenant Living of Keene, formerly Hillside Village, is "the 21st century evolution of Keene's Prospect- Woodward Home—the merger of Prospect Place (the oldest residential care provider in New Hampshire, having originally established itself in 1874) and The Woodward Home, circa 1920.

Total building construction area = 347,000 square feet.