ELIZABETH SETON RESIDENCE SKILLED NURSING FACILITY
MOUNT SAINT VINCENT
Wellesley, MA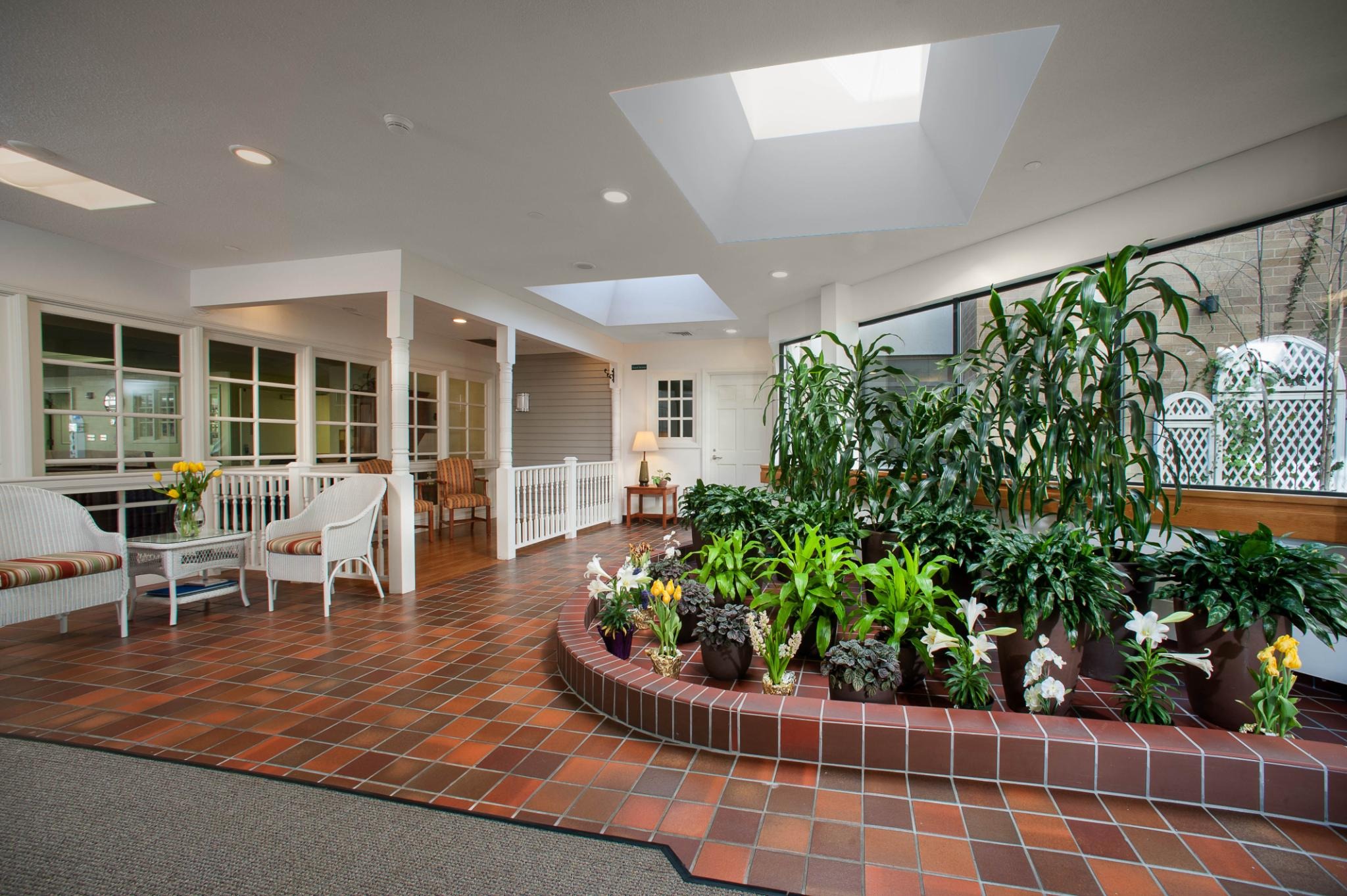 NEW WINTER GARDEN & SITTING PORCH
TYPICAL MODULE HOUSEHOLD FLOOR PLAN
PROPOSED NEW ACTIVITY ROOM & ALZHEIMER'S UNIT SENSORY GARDEN

Alterations & Additions
ARCHITECTURE + INTERIOR DESIGN

Owner/Sponsor: Sisters of Charity, Halifax, NS

Project: 84-Private Resident Rooms with Private Toilets

Gross Building Area: Two Story, 53,300 GSF

Completed: 2017

Alterations on the First Floor included a revitalized Main Entry Lobby with new Skylights, Winter Garden and sitting Porch; resident friendly "Concierge" type Nurses Station, glass enclosed staff Charting/Work Room, Staff Lounge & Lockers, New resident friendly Spa Bathing Tub Rooms and the revitalization of Unit's Parlor Room to Country Kitchen/Activities Room enclosed with glass wall to Corridor inviting passing residents to enter, and vastly improved natural and artificial lighting throughout.

Alterations to the Second Floor included a revitalized Lobby with a smaller Winter Garden area and upgrades throughout the Nursing Unit similar to that on the First Floor but distinguished by a different interior color scheme.

Each of the ten (10) Households , containing eight Private Rooms & Toilets (conceived initially in 1972 by the late Architect Paul Grayson as "Modules," forerunners of today's cutting edge Residential Scaled Household Units and Urban Green Houses), were revitalized with greatly improved lighting, new floor and wall finishes, furnishings, and new Kitchenette casework and appliances. Each of the Five Household Modules in each Nursing Unit was personalized with a different color scheme. All new wood simulated sheet vinyl flooring enhanced the residential ambiance of each Household.

Private Resident Room Toilets were revitalized and upgraded with new vanity tops, sinks and faucets, grab bars, lighting, wall and floor finishes and, most importantly, raising the previously 15" rim height toilets to a more accessible and usable 18" height.