HEALTH & REHABILITATION CENTRE
MOUNT ST. RITA
Cumberland, RI

NORTH WEST FAÇADE
SISTERS OF MERCY ATLANTIC REGION: THE FAMILIAR ECCLESIASTICAL SACRED SHAPE OF THE NEW WEST FAÇADE INCORPORATES 7 ORIGINAL STAINED GLASS WINDOWS FROM THE DECONSTRUCTED 470 SEAT CHAPEL

NEW ECCLESIASTICAL WEST FACADE WITH PRESERVED ST. RITA CURVED SHRINE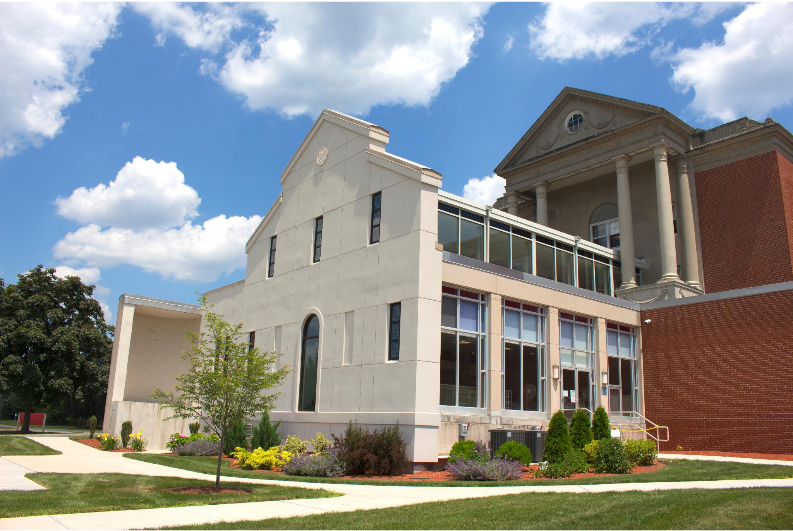 SOUTHWEST VIEW OF NEW ECCLESIASTICAL WEST FACADE

INTERIOR VIEW OF ENTRANCE LOBBY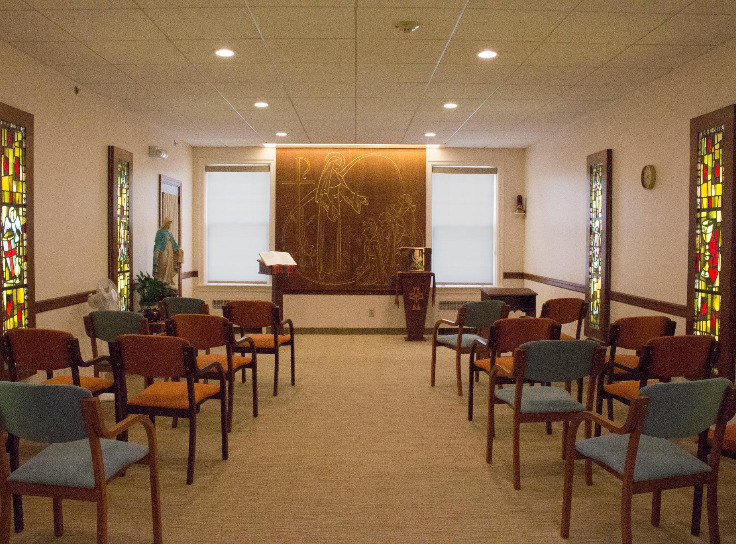 EXISTING CONDITIONS IMAGE

As described on the Mount St. Rita web site:

"In the early part of the 20th century, Mount St. Rita served as a novitiate and convent for the Sisters of Mercy, Responding to both the health care needs of the Sisters of Mercy and the health care needs of the community, in 1971 The Mount (as the Centre is fondly known) transformed itself by becoming a licensed nursing home. In 2016, Mount St. Rita Health Centre will celebrate its 45th year of providing compassionate health care in the spirit of God's healing love and in the tradition of the Sisters of Mercy."

The original convent was built in the early 20th century; the north wing added in 1940 and the entire structure converted to a 98-Bed Long Term Care Facility in 1971. The 470 seat Chapel was constructed in 1960.

The Alterations and Additions project consists of a new revitalized Entrance Lobby Structure, new handicap ramps, Rehabilitation Therapy, a new 25-Seat interior Chapel where six of the original stained glass windows from the Chapel will be installed, new public Toilets and Administrative areas.

The new West Facade captures and the spiritual symbolism of the Sisters of Mercy, which was exemplified by the recently deconstructed former Chapel; Thus the familiar ecclesiastical sacred shape of the new west facade and the preserved original stained glass windows. The new facade outline encompasses the existing Lobby Structure behind it. The structural frame of this west wall will remain intact as it supports the roof and second floor Chapel Connector. We are also retaining the Chapel's curved Saint Rita Shrine structure at the north end of the new facade, which serves as an anchor to the new composition.
The North side (left in the photo) is comprised of a new handicap accessible ramp and canopy entrance covering the new steps and flows up and under the existing Porch Roof. The new steps provide a graceful entry with their low 5'1/2" riser steps. The preserved St. Rita shrine will now serve as an outdoor chapel.


The South side (right) of the Lobby will include a new covered handicap Ambulance ramp serving the Rehabilitation Center located in the South Wing.